Quality
dōTERRA has a made it their top priority to provide the most pure, potent and effective oils on earth. Many competing companies compromise during the planting, growing and harvesting process to optimise profit. When cultivating the valuable plants, dōTERRA pays attention to ensuring that they grow up under natural conditions, are harvested at the peak of their molecular potency and that the plant material is carefully processed on site. This benefits not only the consumers, but also the local farmers, the distillers and the economy of the respective country.
Find out more about the quality of dōTERRA products HERE
In order to offer the best quality mother nature provides, essential oils are sourced from over 40 nations worldwide.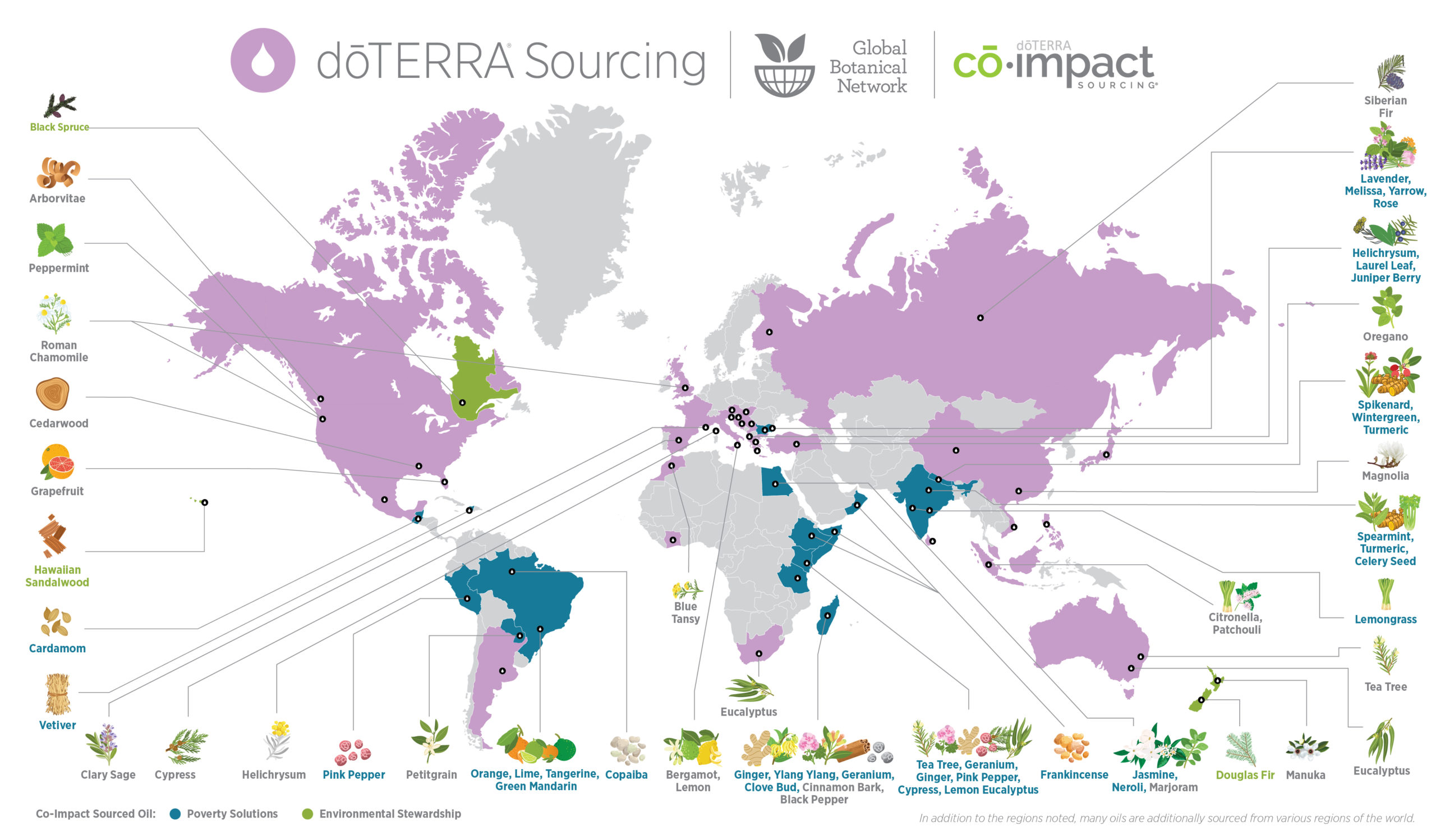 Discover how dōTERRA sources the purest oils worldwide: HERE
Most tested, most trusted.
When selecting essential oils, you should focus on purity and potency. dōTERRA offers full transparency to consumers on their website. On average dōTERRA runs 176 analyses on the life of a single oil.

80% of essential oils are adulterated in some way.
– APRC (Aromatic Plant Research Center)
Your essential oil should have absolutely no adulterations, fillers, pesticides, herbicides, or other contaminants.
At the bottom of each single oil bottle you will find a quality id, as each batch is tested rigorously by various independent third-party labs. Once the batch reaches dōTERRA's quality standards, the product will be labelled CPTG, Certified Pure Therapeutic Grade®.
Check the test results of your essential oil HERE
Cō-Impact Sourcing
Cō-Impact Sourcing is an initiative of dōTERRA with a responsible procurement method and cultivation of essential oils based on reciprocity and fairness. The initiative creates shared value for all stakeholders in the supply chain. When creating sourcing partnerships, locations are chosen to improve the individual, social, economic, and environmental wellbeing, while producing the highest quality essential oils.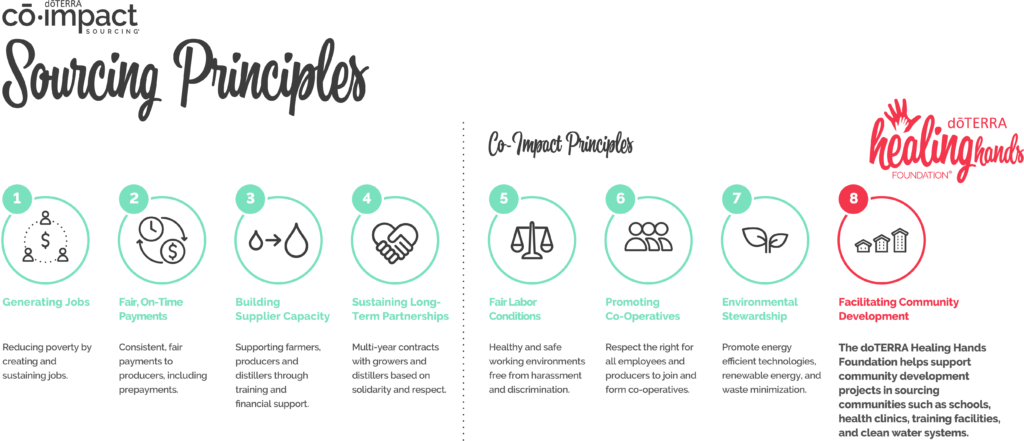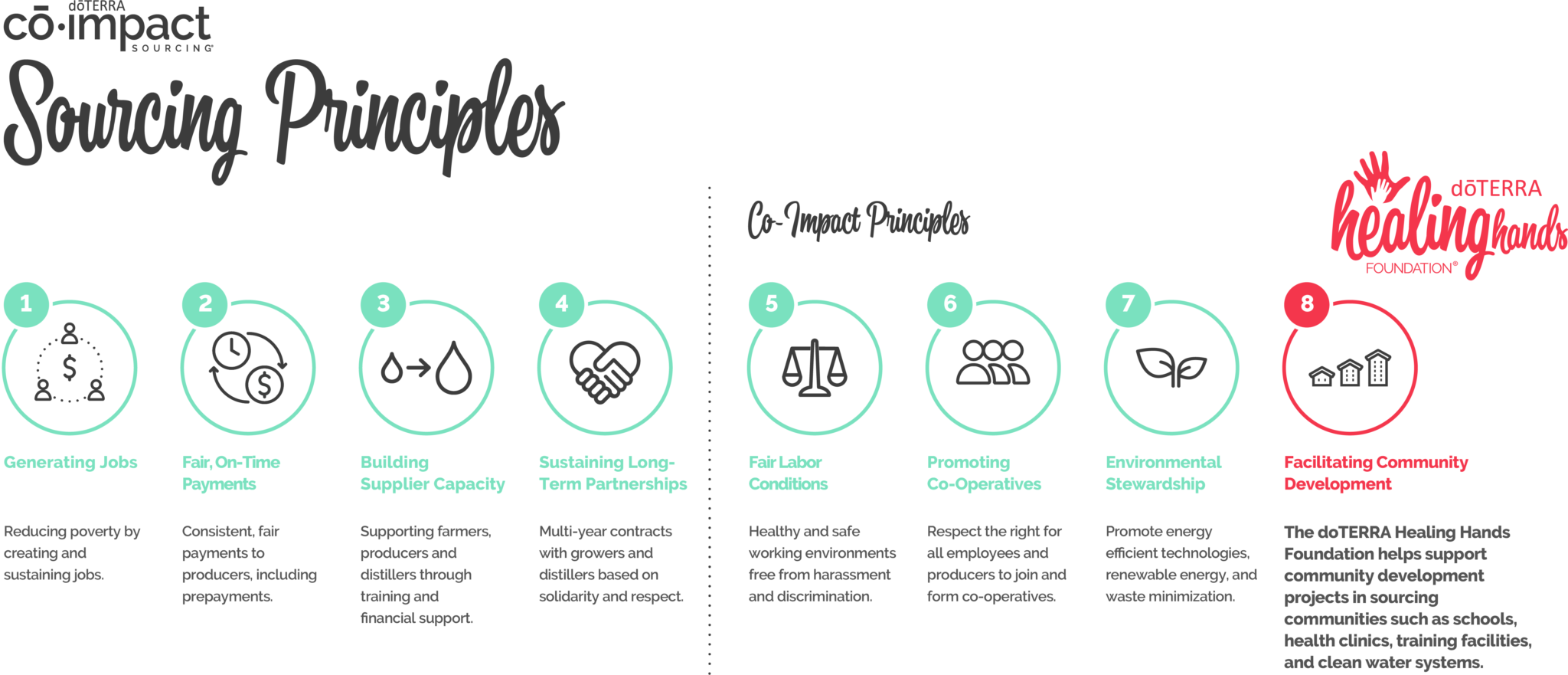 Healing Hands Foundation
An initiative to empower people and change lives around the globe. Partnerships with growers, farmers, harvesters and distillers help to facilitate community development projects in Cō-Impact Sourcing areas to make a positive long-term change. Water, medical care, schooling, health education is one of many areas where dōTERRA comes in to support.
There are currently dozens of Healing Hands projects taking place all over the world. Discover them HERE
The information in this article is not intended to diagnose, treat or prevent illness or injury. This information does not replace a visit at the doctors. All information relates only to the quality of the doTERRA products described here. The use of essential oils is always your own responsibility.